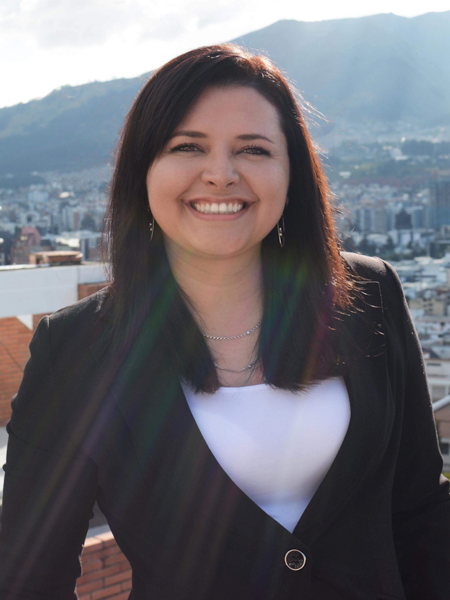 Angélica Campoverde Ortiz
Associate
Ecuadorian Attorney at Law, graduated from the University of Cuenca, with extensive experience in the areas of civil, tax and commercial law, human rights and legislative procedure.
Angelica holds an specialization degree in Tax Law and a Master's in International Cooperation and Development. Her proffessional career in the government sector where she was Secretary and Assistant Secretary of the Economic Commission of the Parliament of Ecuador, has allowed her to have extensive knowledge in economic's regulation as well as to establish important involment within the productive sector of Ecuador.
In the private sector, Angelica has provided legal counseling on civil, immigration, corporate and tax law issues, including matters of international public and private law to clients located abroad.
Education:
– Catholic University of Milan (Master's in international Cooperation and Development) Milan, Italy.
– Universidad Andina Simon Bolivar (Superior Specialization in Tax Law) Quito, Ecuador.
– University de Cuenca (Bachelor Degree in Law) Cuenca, Ecuador.
Languages: Spanish, English and Italian.
E-mail: [email protected]
Practice Areas: Corporate & M&A, Dispute Resolution, Due Diligence.
Andrés Villalba Burbano
Associate
Lawyer admitted in Ecuador. Has worked as Public Procurement Advisor of the Attorney General of the State of Ecuador, as well as in the Legal Management of the Public Company Television and Radio of Ecuador E.P. RTV ECUADOR. Was part of the staff of the largest law firm in the country, within the Corporate Area, serving large clients as national and international companies that have a remarkable position in the market.
His extensive experience allows him to contribute in the development of the business turn of the clients and his business objectives, through the implementation of strategies that go from the legal to the commercial. Has been advising state entities on issues related to investments in different economic sectors.
His experience in the public sector as well as on the private sector has allowed him to participate in projects of law, regulations, agreements, associative modalities (Consortium, Strategic Alliance, Public – Private Associations), contracts, Advice for the structuring and presentation of applications for Investment Contracts.
Education:
– Universidad de las Américas UDLA (Lawyer) Quito, Ecuador.
Languages: Spanish and English.
E-mail: [email protected]
Practice Areas: Corporate & M&A, Litigation and Dispute Resolution.
Edgar Bustmante Sierra
Associate
Lawyer and LLM in International Business Law. Legal advisor for complex corporate matters including international contracts, M&A's, commercial, antitrust, customs, tax and labour law.
I have international experience in both the public and private sectors, where I've practiced as a legal consultant for international business operations around South America, Europe, Middle East and North Africa.
Early in my career, I've had the opportunity engage in valuable trainings in the National Antitrust Agency of Catalunya and Uria-Menendez, one of the best law firms in the world.
Education:
– University of Miami, Law School (International Commercial Arbitration LLM) Miami – EEUU
– ESADE (International Business Law LLM) Barcelona – España
– Universidad Catolica de Guayaquil (Lawyer) Guayaquil – Ecuador
Languages: Spanish, Catalan and English.
E-mail: [email protected]
Practice Areas: Corporate & M&A, Investment Consulting, Litigation and Dispute Resolution.