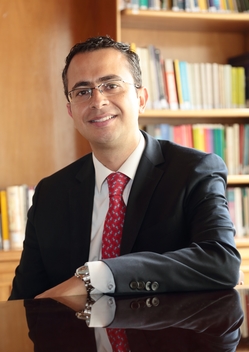 Milton Montoya Pardo
International Counsel
Ph.D. in Law, Master in Energy Law and Author of multiple publications to international level. It was Adviser of Presidency in the National Agency of Minería of Colombia, Adviser of the Administrative Unit of Public Services of Bogota, Consultor of the Federal Institute German of Geociencias and Natural Resources (Bundesanstalt für Geowissenschaften und Rohstoffe -BGR- on the Study of Minería and Human Rights in Colombia, Consultor of the German Society of International Cooperation (Deutsche Gesellschaft fuer Internationale Zusammenarbeit (GIZ) GmbH), as well as also of the Project PORTEX promoted by the World Bank, and current Director of Investigations of the Department of Mining Right-Energetic of the University Externado of Colombia. It has vast experience in the Energetic Sector Colombian and Latin American. His professional development has been closely tied to consultancys and consultings in favour of entes public and deprived in matter regulatoria, energetic, environmental and social for the emprendimiento and execution of projects extractivos in Colombia. Participation in processes of Due Diligence in the Industry Extractiva. It is member of the Academic Council of the Section of Energy and Natural Resources of the International Association of Lawyers WENT.
Education:
University of Dundee, Scholar Newton Fund-British Council. Post-Doctoral, Dundee-United Kingdom.
Universidad Complutense of Madrid (Doctorate in Right, Ph.D), Madrid- Spain.
Upper institute of the Energy (ISE)-Foundation Repsol-YPF Cremades Calvo Sotelo Pleaded (Master in Right of the Energy), Madrid-Spain.
University Externado of Colombia (Diplomado in Regulation of Electrical Energy and Gas), Bogota-Colombia.
Universidad Externado de Colombia (Lawyer), Bogota-Colombia.
Languages: Spanish, English and German.
E-mail: [email protected]
Areas: Energy, Due Diligence, M&A, Environment, Consultancy in Investments.